Everyday Basics: The Best Roast Chicken
Basic recipes like this roast chicken make up a lot of my meals and snacks during a busy week. I like to make this on a Sunday afternoon to start my week out healthy. The leftovers are great for the next few days. The best recipes can serve as lunch or dinner and are incredibly easy to prepare!
The Best Roast Chicken
Gather & Prepare
Remove the chicken from the packaging and place it on a small parchment lined sheet pan. Pat the chicken dry with a paper towel. Before cooking remove the back bone, preserving the meat around the thighs and wings. Trim the skin around the wing and leg joint to loosen tendons in the dark meat. Season well on all sides with salt, pepper and olive oil.
Place on a baking sheet or shallow dish. Convection bake at 290 for 3 hours or standard bake at 295 for 4.5 hours, rotating every hour. Allow to rest for 20 minutes uncovered then cut into 8 parts. (Carefully remove the rib bones with a small paring knife).
Classic serving suggestion: Seasoned with only salt pepper and olive oil. Set on top of a bed of greens and serve with lemon wedges.
Side option: Pan fried brunoise cut potatoes, first blanched in shallow oil over low heat until knife tender. Increase the flame and fry to crispy and golden brown, season to taste with salt. Use a fish spatula to move them around to ensure even coloring.
Lunch serving suggestion: Open-faced toast spread with mayo, fork smashed half of an avocado, shredded chicken, topped with greens and drizzled with olive oil and sea salt.
Merci beaucoup!
Noah Stephens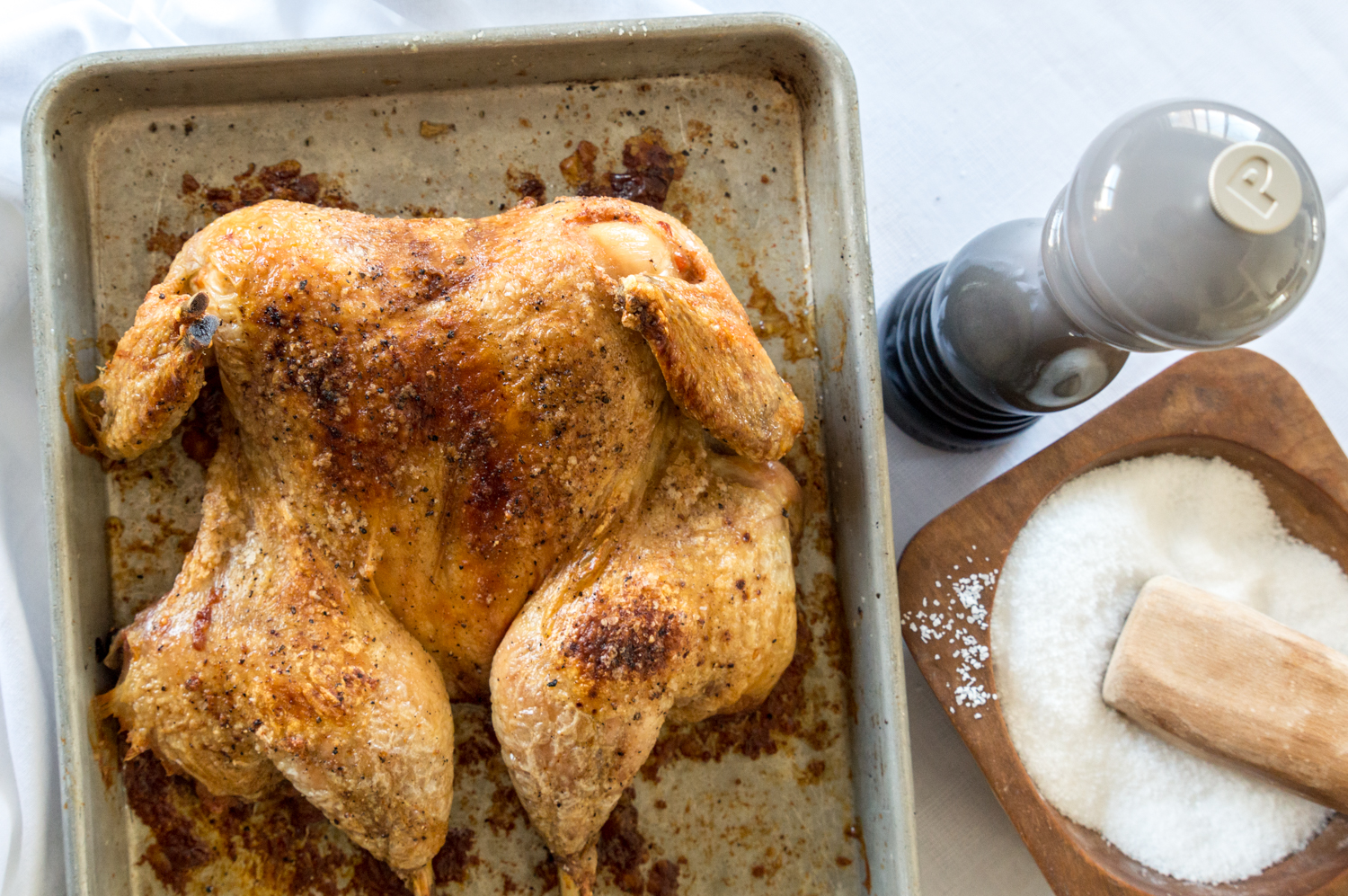 Save the bones to make stock. I love how Martha Stewart always told people, "always save your bones for stock." She's my Julia Child.